Jordan Golding at the 2014 NZ Open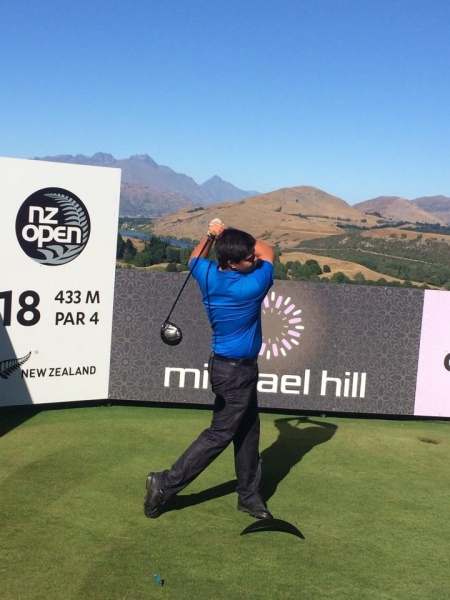 My experience this year at the New Zealand Open in Queenstown was awesome. It gave me a real insight to the world of professional golf. It was unlike anything I had ever played in before.
It was an incredible feeling walking onto the practice range each morning and being surrounded by some of the world's biggest golfers and celebrities. I felt very special being able to tell everyone that I was representing NZ Maori Golf at the open.
The Hills and Millbrook are two very special golf courses and I was very lucky to be able to play them both.
I felt very spoilt throughout the entire week. The backing I received from both NZMGA and my family was great. It made me feel really comfortable throughout the event which was great because it could have been quite daunting if I was down there alone. It was also great to have John Cribb there and his support was greatly appreciated, the funding we received as a whanau from NZMGA was also appreciated immensely.
I was able to follow the leaders for the last 9 holes of the tournament. This was a great experience as I got to see how they manage themselves on the golf course especially in very trying conditions. The golf that was on display was incredible to watch. It did make me realise that there isn't much difference between myself and the professionals.
Playing in this year's Open made me realise that I would really like to be a part of the golfing industry, it was a lot of fun and you get to meet a lot of new and exciting people.
I can't say thank you enough to my family, John Cribb and everyone else involved with the NZMGA. It was a great experience and hopefully it won't be my last at our national open. I will never forget the skills I have learnt in Queenstown and hopefully it helps me to continue my golfing career.
Jordan shot 79 in Round 1 and 80 in Round 2. He missed the cut off, but has gained so much experience.
Back...