Tainui Regional Golfing Calendar 2020 - 2021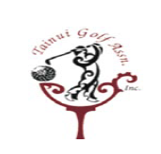 Tainui Region host a number of great competitions all year round, at clubs across the Waikato area. See the link below for tournaments coming up in the 2020-2021 season.

We also want to thank you everyone who supported the 2019-2020 season. From the organisers, green keepers, those who worked in the kitchens, bar staff and on the BBQs, the junior golfing teams right through to everyone who played and supported players.

A special thanks to our sponsors and those who have provided taonga that embody our players efforts!

Tournament Information
Due to COVID 19 there have been a couple of changes for 2020. These are:
1. Raglan will hold a 2 day tournament on Saturday and Sunday 30th & 31st January 2021
2. Waiuku's tournament in February 2021 will move to 20 Feb. This will change back to the first Saturday in 2022.
We look forward to your ongoing support for this season and wish you and your whānau all the very best.
Tainui Regional Championships Results 2019-2020
Best Net Men: Alain Double 64
Best Net Women: Judee Watene 69
Senior Mens Net: Alain Double
Senior Mens Gross: Douglas Millington
Senior Mens Stableford: Ray Foster
Intermediate Men Net: Thomas Edmund
Intermediate Men Gross: Daryl Putohe
Intermediate Men Stableford: Howard Wynyard
Junior Men Net: Travis McCorkindale
Junior Men Gross: Romana Graham
Junior Men Stableford: Lance Douglas
Kaumatua Net: Alan Duncan
Kaumatua Gross: Mike Flavall
Kaumatua Stableford: Joseph Taingahue
Womens Silver Net: Debbie Foster
Womens Silver Gross: Tracey McCarten
Womens Silver Stableford: Keira Rhind
Womens Bronze Net: Judee Watene
Womens Bronze Gross: Nonie Eketone
Womens Bronze Stableford: Francis Popata
Golden Girls Net: Joy Ormsby
Golden Girls Gross: Raima Neil
Rangatahi Net: Maioha Walker
Rangatahi Gross: Ngatama Anderson
Rangatahi Stableford: Ricci Putohe
Ngā manaakitanga
Judee Watene
Tainui Regional Golf Committee Convenor
Link:
Click here to view the tournament calendar
Back...