Tyla Kingi at the 2014 ISPS Handa NZ Open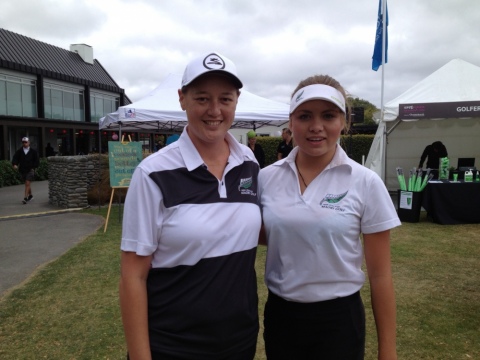 Standing on the 1st tee at Clearwater Golf Course in Christchurch, was an experience I could've only dreamed of!
The time was 7.15am and here I was, about to hit the 1st ball for the tournament. With all the cameras focusing on me, my professional plating partners watching, and a huge gallery of spectators in full view, my nerves were starting to fret.
To get myself under control, I started to think of how I got here, and what was important. Two weeks earlier I was fortunate to win the 2014 NZ Maori Golf tournament in Te Puke. The prize was to compete at the 2014 ISPS Handa NZ Women's Open. This is where all the current and future stars of Women's golf show off the ability and talent, and what a star-studded line up they had!
Some on my TV heroes were on display, the likes of Laura Davis, Cheyenne Woods (Tiger Wood's niece) and my good friend Lydia Ko, just to name a few. Also in my playing group was Anya Alvarez. At first she was an unknown professional to me, but is well known on the LPGA tour as someone to watch. She certainly did not disappoint. Playing side by side with her for two rounds, she displayed what was required at that level and just "blew the lights out"! She was 8 under after two rounds.
The experience I gained from playing and watching her for two days will help me develop my potential in this sport. Much can't be said about the Clearwater Golf Club, but "Amazing" covers it! The greens were slick and true. It was like putting on glass at times. If you hit your ball in the right area the rewards were great. But for 80 odd players out of 135 who missed the cut, like myself. Hitting the greens was one thing, outing was another.
The layout was surreal. There were hazards both sides of every fairway and there was a narrow corridor of finely cut grass or fairway in the middle. The Clearwater lakes ran the full length of at least 15 holes and were spectacular.
The distances the professionals were hitting were overwhelming. I didn't have a lot of options with my distance so full swing with my driver was it. My scores did reflect how I felt in that time, but I am only 14 year old and have a lot of years' ahead of me. It was at this time of reflection my nerves eased and nothing else could face me.
I felt very honoured and proud to represent NZ Maori Golf and my whanau at the prestigious event. I would like to thank NZ Maori Golf for giving me the opportunity to be part of the 2014 ISPS Handa NZ Open. The experiences I've gained is priceless in what I hope will be my future!
Back...